I could not believe my eyes when it happened.
I was appreciated by one of the top motivational speakers in the world, Dr Vivek Bindra Sir.
I was surprised because these little joys were still very grand to me. I wasn't accustomed to being appreciated like that before.
Take a Moment to Appreciate the Good Things in Life
It taught me two things that day:
Whatever I had achieved in my life until then, it wasn't as little. I should give some respect to it. Respecting it in a way that I go on to help other people achieve the same feat in their lives.
A word of appreciation can really motivate you to achieve greater things in life. That's because we all need that little push in our lives to do the unthinkable. That urge in our hearts needs a catalyst to achieve what we think is impossible.
I had zero resources. No fancy childhood. In fact, I was selling bread when I was still in 7th standard. I dropped out of school because my family's financial situation went from bad to worse after my mother got diagnosed with TB. My father went to the city leaving me as the caretaker of my mother and the village.
Amidst all of this, I never thought I would run my own company someday, let alone an IT company.
What kept me going was my belief in myself, and that I have to do something to take care of my mother.
I decided that day itself that I have to do something good in life. Something big.
And the journey began…
I have always believed in working hard in silence and letting my success make the noise.
I felt nostalgic about the time when Vivek Sir shared my story on his feed.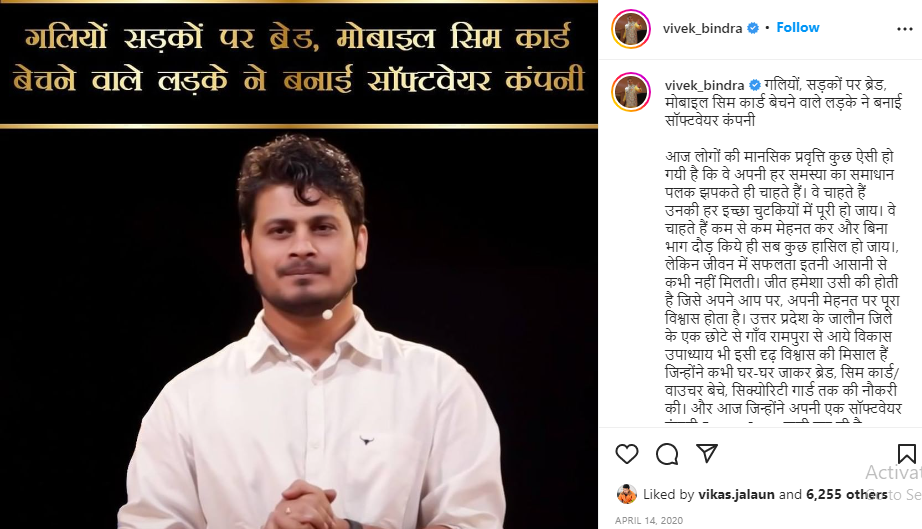 I was casually scrolling on Instagram last night and came across a post of Sandeep Maheshwari Sir's interview with Dr Vivek Bindra Sir. I am calling them Sir because I have the utmost respect for them. And I have grown up watching them. They have been my idols. They need no introduction. They have achieved what they have preached all their lives. They are Asia's most watched motivational speakers. 
He shared my journey on his Instagram feed.
And also, his Facebook post about my story gained a lot of popularity among the youth.
A Single Word of Appreciation can Help Someone do Wonders!
I felt nostalgic about it. And it took me back to my early days when I had just started. I did not know whether I would be successful or not. But I had a self-belief that if I worked hard in life, and make consistent efforts toward my goals, I will make it someday.
And Vivek Sir's motivation has only fueled my passion to do the greater good in life.
It was more difficult to start a company in 2013 than now. We had fewer platforms and fewer resources.
After having a tough childhood, where I did not get a quality education due to financial problems, I was still determined to do great things in life. And even today, I carry the same passion on my shoulders.
I was inferior in communication. Like many of us, I too thought communication is all about knowing how to speak English. But communication is more about explaining yourself in a way that the other person can understand.
At my company Dream Steps Technologies, I mostly deal with foreign clients. I conduct meetings with them. And I understand their accent well, and so do they. Anything can happen in life. Everything is possible if you learn the importance of your time.
You can watch the interview on Sandeep Maheshwari Sir's YouTube channel.
After watching the interview, I learned a lot of lessons from two greats in their fields. Even at this age, my hunger to learn has the same spark. There is so much to learn from two people having a casual conversation. If only we head in the right direction, the problems will appear small against our determination.
I just want to say that whatever is stopping you, is only a hindrance that you can get rid of. Don't take it as a setback. Take it as a challenge. And keep getting better.
You never know when you can win.